Table of Contents of this Post
Key Facts about Real Estate Sector in Georgia
Real Estate and Hospitality are one of the fastest growing sectors of Georgian Economy. Over the recent years Georgia has seen a dynamic growth of international visitors, in 2018 the number of international visitors reached 5.9 million while the population of Georgia is 3.7 million people. Number of international tourists' arrivals is expected to grow by 8-10% during the next five years.  The upcoming major resort development projects include an exclusive 315 ha sun-beach resort Gonio on the Black Sea
Already-operational international hotel chains include Sheraton, Radisson, Marriot, Rixos, Holiday Inn, Millennium, Best Western, etc. Most international hotel chains in Georgia are positioned in the higher segment, there is untapped potential to develop mid class hotel brands.
WHY INVEST IN HOSPITALITY & REAL ESTATE
Rich Natural and Cultural Resources
Distinctive among the world's nations with its biodiversity, Georgia boasts rich natural and cultural resources and is home to more than 12,000 historical and cultural monuments, four of which are included in the list of UNESCO World Heritage Sites.
Regional Center
Georgia is a regional center located on the shortest route between Europe and Asia. International visitors enjoy easy access by three international airports (Tbilisi, Batumi and Kutaisi), modern railway and visa liberalization system. Georgia has Visa Free Regime with Citizens of 94 countries and additionally holders of valid multi visas or/and residence permits of 50 countries may enter and stay in Georgia for 90  days within one year period.  
Continuous Increase of International Visitors
According to UNWTO (World Tourism Organization), among European countries Georgia had one of the highest growth rates of international tourist arrivals during last three years. The average annual number of international travelers from 2007 has been increasing by 23% yearly.
Various Type of Resorts 
Adjara Region is famous for its black sea coasts and bright life style, while winter resorts offer an extraordinary experience including free ride and heli-skiing. With Tskaltubo medical and wellness resort Georgia is a unique wellness and SPA destination in the Region. For those who enjoy gaming, Georgia can provide a high quality gaming experience equal to world class gambling destinations without the restrictive legislation.
Considerable Potential to Develop Real Estate
Georgia offers significant potential to develop hotel & leisure, residential, retail and office premises. According to A.T. Kearney, Georgia is "an under saturated small gem" and ranks 6th in the Global Retail Development Index 2015. Additionally investors can benefit from the growing demand on "A" class office buildings and entertainment facilities.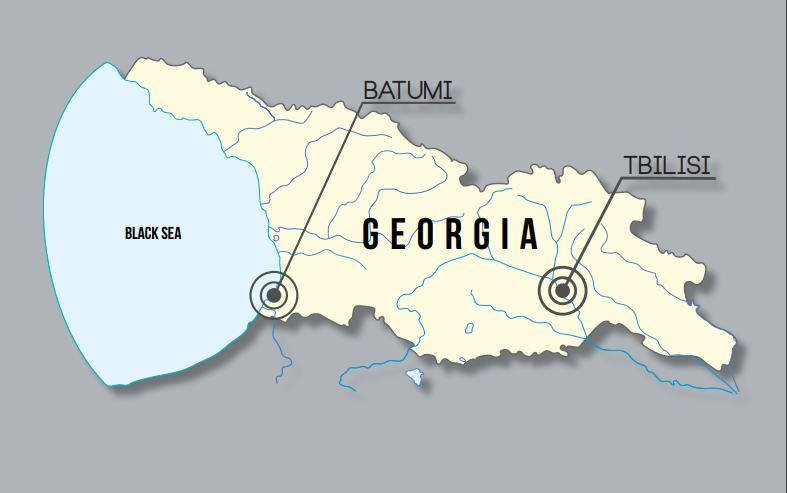 Visiting Real Estate Constructions in Batumi | Orbi Twin Towers, Dar Towers and more
   I decided to show you some exciting ongoing constructions in Batumi. If you plan to invest in real estate in Georgia, this video might be helpful for you to get understanding of real estate pricing and market.
 We offer a specialized service to individual home buyers and investors looking to benefit from the myriad of opportunities in Georgia. We are here to help with every step of your purchase from the first offer to moving in. Our services include:
The Purchase
After consulting with you to outline your needs and wants, we will show you the properties that best fit your requirements. All of our properties are personally vetted by us so that we can feel 100% confident in the projects we show you.
Registration
We will help you to register the property with the Public Registry Office. We can also assist with acquiring Permanent Residence status in Georgia if required.
Finishing
Most apartments in Tbilisi are sold on a White Frame basis. We will work with you to finish your apartment to your unique and detailed specifications.
Interior Design
Our Interior Design Division can then take over and bring your apartment up to full ready-to-rent status, right down to soft-furnishings and cutlery.
Long and Short Term Rental Management
Once the apartment is up to standard, we will market your property in order to achieve the highest yields for investors. Our photographers will ensure that your apartment really stands out from the crowd, and attracts the best tenants. Once a tenant is retained, our team will handle all necessary details such as payment, lease agreements, and maintenance.
For short-term rentals such as AirBnB or vacation rentals, we can post online advertisements, handle maintenance and cleaning between guests and offer airport pickups and other specialized services.
Feel This Simple form and We will get back in Touch with you ASAP! 
Some Construction Companies in Batumi
Restrictions for Foreigners on Real Estate in Georgia