Declaimer: These are not  official statistics, these data comes from our own experience. Prices are average market prices.
1 Bedroom – Center – 900 GEL
1 Bedroom – Outskirts – 600 GEL
3 Bedroom – Center – 1700 GEL
3 Bedroom – Outskirts – 1000 GEL
1 Bedroom – Center – 650 GEL
1 Bedroom – Outskirts – 400 GEL
3 Bedroom – Center – 1200 GEL
3 Bedroom – Outskirts – 850 GEL
Prices Per square meter to buy in the city center  –  3500 GEL
Prices Per square meter to buy in the outskirts of the city – 1800 GEL
Prices Per square meter to buy in the city center  –  2500 GEL
Prices Per square meter to buy in the outskirts of the city – 1300 GEL
Average Monthly Net Salary – 800 GEL
Mortgage Interest rate/ yearly – 12%
Average Monthly Net Salary – 600 GEL
Mortgage Interest rate/ yearly – 12%
    The below fees does not express price difference per cities. These are pretty much the same all over the Georgia.
Milk (regular), (1 liter)
3.22 GEL

2.50

–

4.00

Loaf of Fresh White Bread (500g)
0.91 GEL

0.70

–

1.00

Rice (white), (1kg)
2.88 GEL

1.70

–

4.00

Eggs (regular) (12)
3.51 GEL

3.00

–

4.08

Local Cheese (1kg)
10.20 GEL

8.00

–

14.50

Chicken Breasts (Boneless, Skinless), (1kg)
9.01 GEL

8.00

–

11.48

Beef Round (1kg) (or Equivalent Back Leg Red Meat)
15.31 GEL

12.00

–

24.00

Apples (1kg)
2.38 GEL

1.00

–

3.40

Banana (1kg)
3.53 GEL

3.00

–

4.50

Oranges (1kg)
3.16 GEL

2.00

–

4.00

Tomato (1kg)
2.60 GEL

1.50

–

4.00

Potato (1kg)
1.15 GEL

0.90

–

1.50

Onion (1kg)
1.20 GEL

1.00

–

2.00

Lettuce (1 head)
1.40 GEL

0.60

–

2.00

Water (1.5 liter bottle)
1.05 GEL

0.80

–

1.50

Bottle of Wine (Mid-Range)
12.25 GEL

10.00

–

15.00

Domestic Beer (0.5 liter bottle)
2.35 GEL

1.90

–

3.00

Imported Beer (0.33 liter bottle)
3.36 GEL

2.50

–

5.00

Cigarettes 20 Pack (Marlboro)
5.00 GEL

4.30

–

5.50
 
 
 
Meal, Inexpensive Restaurant
15.00 GEL

12.00

–

20.00

Meal for 2 People, Mid-range Restaurant, Three-course
52.50 GEL

35.00

–

70.00

McMeal at McDonalds (or Equivalent Combo Meal)
12.40 GEL

10.00

–

15.00

Domestic Beer (0.5 liter draught)
3.00 GEL

2.00

–

4.00

Imported Beer (0.33 liter bottle)
4.00 GEL

3.00

–

5.00

Cappuccino (regular)
4.19 GEL

2.50

–

6.00

Coke/Pepsi (0.33 liter bottle)
1.28 GEL

1.00

–

2.50

Water (0.33 liter bottle)
0.57 GEL

0.40

–

1.50
One-way Ticket (Local Transport)
0.50 GEL

0.50

–

0.50

Monthly Pass (Regular Price)
30.00 GEL

28.00

–

50.00

Taxi Start (Normal Tariff)
3.00 GEL

2.00

–

3.00

Taxi 1km (Normal Tariff)
0.60 GEL

0.50

–

1.00

Taxi 1hour Waiting (Normal Tariff)
5.00 GEL

4.80

–

10.00

Gasoline (1 liter)
2.47 GEL

2.25

–

2.60

Volkswagen Golf 1.4 90 KW Trendline (Or Equivalent New Car)
30,000.00 GEL

23,000.00

–

35,000.00

Toyota Corolla 1.6l 97kW Comfort (Or Equivalent New Car)
36,620.00 GEL

28,000.00

–

46,000.00
Basic (Electricity, Heating, Cooling, Water, Garbage) for 85m2 Apartment
151.65 GEL

100.00

–

242.86

1 min. of Prepaid Mobile Tariff Local (No Discounts or Plans)
0.25 GEL

0.15

–

0.30

Internet (60 Mbps or More, Unlimited Data, Cable/ADSL)
42.47 GEL

25.00

–

61.00
Key Things to know before moving to Georgia - Expectations VS Reality
Fact 1 - Community Expectations - How Georgians Treat Foreigners?
When you visited Georgia, it most likely was for your holidays or a business trip, where you felt the hospitality of the nation.  Most expats believe that's how it will be while they live here long-term. However, when you become a resident here, expect that you won't be treated like a royalty anymore. It's not only about Georgians, good and bad people are everywhere right? When most of people are quite helpful some may scum you with helpful face. This happens everywhere, unfortunately Georgia is not an exception. I highly recommend to use a lawyer and be more careful in business deals. Never trust just words! Georgians are not Rassist!  We are quite open minded in this matter. Georgia is open for any nation! We love guests and almost never differentiate by nationality. It's even said that they believe that a guest is a gift from God…
Fact 2 - Language Expectations- Do Georgian People speak English?
Directly Saying, majority of people do not speak English. You might sometimes face Language Difficulties and barriers.  If you plan to do business here, highly recommended to hire a Reliable Georgian assistant to help you our with deals. This way you will say lots of time, nerves and even MONEY. 
Fact 3 - Safety Expectations - Is Georgia a safe country?
Even though cases of petty thefts, robbery, and mugging are reported everywhere in Europe, the crime rate of this country is one of the lowest in Europe, making Georgia a safe country to visit at any time of the year.  Georgia is blessed with extremely scenic parts which can be checked out alone, even at night. The crime rate in Georgia is reported to be very low and is exactly why it has made it to eighth place in the safest countries in the world list. Apart from its safety measures, the attractions in the county are incredible. Should your safety and health be endangered, dial 112 to contact the emergency service. It combines fire and rescue brigades, emergency medical services, and patrol police. Police in Georgia enjoys a particularly high trust from the population.
Fact 4 - Online Shopping Expectations - Can goods be delivered in Georgia from the US or European Countries?
Yes! Majority of things can be directly delivered to your Georgian address. As for those, where  Amazon, Ebay or any other online marketplace says ships Only in the US there is a workaround. 3rd Parties, like USA2Georgia or Camex can grant you address to the US or Germany and with little fee deliver your goods to Georgia within a week. 
Fact 5 - Foreigners Living in Georgia
  The expatriate community here is very small and close knit. This means you can be sure of the support of others who have made the move to Georgia ahead of you while you meet the locals and integrate into the wider community.
   Healthcare system in Georgia is fully privatized. Private hospitals operate in all main regional centres thus making medical services accessible to the population countrywide. The information about health service providers can be found on the information web portal: http://cloud.moh.gov.ge. Additional information on physicians, blood bank, and pharmacies can be accessed on the portal upon registering. Several large insurance companies operating in Georgia offer various health insurance coverage
packages to customers. The information about these companies is available on the website of Georgian Insurance Association: www.insurance.org.ge.
Fact 7 - Border Checkpoints in Georgia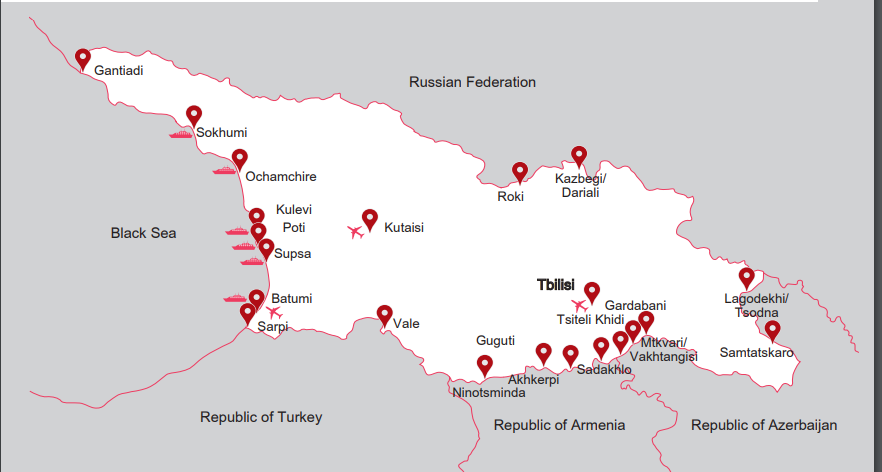 1.  Sarpi- Turkey-
2.  Vale -Turkey
3.  Ninotsminda – Armenia 
4.  Guguti –  Armenia 
5.  Akhkerpi – Armenia – motorway/interstate
6.  Sadakhlo – Armenia 
7.  Tsiteli Khidi – Azerbaijan 
8.  Mtkvari/Vakhtangisi – Azerbaijan –  motorway/interstate
9.  Samtatskaro Azerbaijan – motorway/interstate
10.Lagodekhi/Tsodna 
11.Gardabani – Azerbaijan 
12.Kazbegi/Dariali Russian Federation
and International Airports:
1) Tbilisi
2) Kutaisi
3) Batumi
PLEASE NOTE! According to the Law of Georgia on Occupied Territories, foreigners and
stateless persons are allowed to enter the occupied territories of Georgia only from the territory controlled by Georgian state: to the territory of the Autonomous Republic of Abkhazia – from Zugdidi Municipality; to Tskhinvali region (former Autonomous Region of South Ossetia) – from Gori Municipality. It is prohibited for foreign citizens to enter the occupied territories from other directions. Georgian legislation envisages certain sanctions for breaching the above-mentioned rules. For additional information regarding the movement on occupied territories of Georgia please visit the website of the Office of the State Ministry for Reconciliation and Civic Equality of Georgia: www.smr.gov.ge
Fact 8 - Finding a Job in Georgia
  Finding work in Georgia is not necessarily easy for expats. Nevertheless, there are a number of expats teaching languages while others managed to land a job with a national or international company.  These are the portals where most Vacancies are listed: jobs.ge  https://www.hr.ge/
Fact 9 - Georgian Hospitality and Food Expetations
   Georgians love guest. You will hear often from Georgian People that – " Guests are from God", so treat they their guests. This country is pretty famous with it's food.  This food is definitely different from any you tried before. One thing that is still positive about Georgia, is that here you can find vast of organic fruit, vegetables, meat for a very reasonable price. Probably that makes Georgian cuisine  attractive.
Fact 10 - Rural Life in Georgia - How people live in Villages of Georgia?
A bit of Georgian Demographics:
| | |
| --- | --- |
| Georgia | 3,713,804 |
| Tbilisi | 1,108,717 |
| Batumi | 152,839 |
| Kutaisi | 147,635 |
    Almost one third of Georgian Population lives in the capital city. Half of Georgian Population lives in three main cities of Georgia.  Unfortunately, people are massively leaving villages. During the soviet union, agriculture was number one priority. This is why, people living in villages were earning quite a good amount of income. After collapse of Soviet Union Georgia became independent and very hard phase of 90's started.  People could sell less and less of agriculture products, they obviously could not survive with this, that's how they stopped farming and agriculture and started finding heir faith in other sectors. Though, Georgia was blessed with high fertile soil, agriculture is not as developed as it could be. 
    Let's visit, one of the villages and see ourselves. In this Video, I am heading to Kvirike, which is located in Kobuleti municipality. The village is only half an hour drive from Batumi, however public transportation is not as organized. There is a bus only several times per day to this village. However, for those who have cars village is easily accessible.  Only 4110 People live  here. Region was wealthy back than by citrus crop, however, today they face issues with selling their  harvest. 
                   How do People live and survive  in this Georgian Village?
    They are working usually in nearest cities, which is Kobuleti and Batumi. They do also smaller scale agriculture. Almost all inhabitant here own livestock, mainly cow and produce their own Milk and Georgian Cheese. They harvest vegetables, fruits. Nowadays they started planting more and more hazel, which is sold mainly in Turkey.