Table of Contents of this Post
     Thinking about Georgian Real Estate? Precisely  buying a home for rental income? Looking for Tbilisi apartments for sale but not sure what to buy? What is going to be best decision in terms of Return on Investment? If so,  you are in a perfect place for you.  I am sure, I will give you most recent and realistic data. This is a must read blog before you proceed to buy a house in Georgia and  even before you start searching for Tbilisi Property Deals, houses for sale in Tbilisi. In this blog I'm focusing especially on Tbilisi Real Estate Investment, apartments for sale in Tbilisi.
Which district should you be looking at for Tbilisi apartments for sale?
Considering my knowledge of Tbilisi Property Market and willing to make your Georgian Real Estate Venture Easier I came up with 3 different districts that requires your consideration before you start looking for flats for sale in Tbilisi and  buy a house in Georgia. This will answer your questions where to be looking for apartments for sale, which district is more profitable. I aim to help you to make profitable real estate investment decision.  I believe,  You should consider to buy house in Tbilisi only after being aware on Below.
 High Yield  District for Tbilisi Real Estate Investment
This is not only hot Tbilisi Real Estate District but Hot Georgia Real Estate District as well, I would say. In other words, now I will introduce you to  high yield rental properties in Tbilisi area and What I mean is that Tbilisi is capital city of Georgia and It's most attractive area is most attractive area in whole Georgia, obviously. Flats for Sale in these districts of Tbilisi is most demandable and this lowers your investment risk since it makes your property in Tbilisi easy to resale. This is not cheap investment property but this is relatively risk free area to invest in Real Estate Georgia. So, ladies and Gentlemen, I introduce hot area for houses for sale Tbilisi:
*Didube-Chugureti ———-( chugureti)
*Old Tbilisi ——————– (Abanotubani, Avlabari, Elia, Vera, Mtatsminda,
Sololaki )
*Vake—————————- ( Chavchavadze, abashidze,
paliashvili)
     Once again, we  call above mentioned area  hot  real estate investment area.  Should you consider to buy a house in This area? How much does apartments for sale cost in this old Tbilisi area? Read this and you will know.
     Before you proceed make sure that you pay attention to brackets. These districts are quite big, not all the places can be considered to be nice in terms of investment or rent.Tbilisi  has up and downhills, It is not a flat city, so some places even in the central districts can be hardly accessible.  One more detail worth to mention is that Though these are places attractive for tourist you need to know that  in the old Tbilisi there is not much new building,real estate constructions so you will be prompt to purchase a flat in old building. This often sounds appealing for short-term rentals, yes this is best investment for short term rentals,  if your main intention is exactly short term rental income. However, thinking long-term, how many local people is interested to leave Touristic area where prices are higher and old building? In terms of   long term rental I would recommend  below mentioned districts.
         Which district to consider for long-term rental property Investment?
      So, if you are still reading this, It's obvious you are Looking to Invest in  Real Estate in Tbilisi.  Therefore, Below I introduce and is  listed area which is relatively most demanded for long-term tenants similarly a huge number of people are looking for Tbilisi
apartments for sale.  This is second most appealing real estate rental property investing. These are students, families, foreigners living in Georgia, Couples or whatsoever. Let's call bellow areas a cool area. Also bear in mind that these areas can be also  more or less attractive for short-term rentals, since these are easily accessible  by public transport and are not too far from
the most popular touristic attractions.
Vake-Saburtalo—– (Vedzisi, Saburtalo, Districts of Vazha-Pshavela,
Politkovskaia)
Didube—————- ( Tsereteli and streets crossing)
Now let's see hot and cool are of property investment/rent on the map. Red Colored Hot Area and Pink  Colored Cool Area: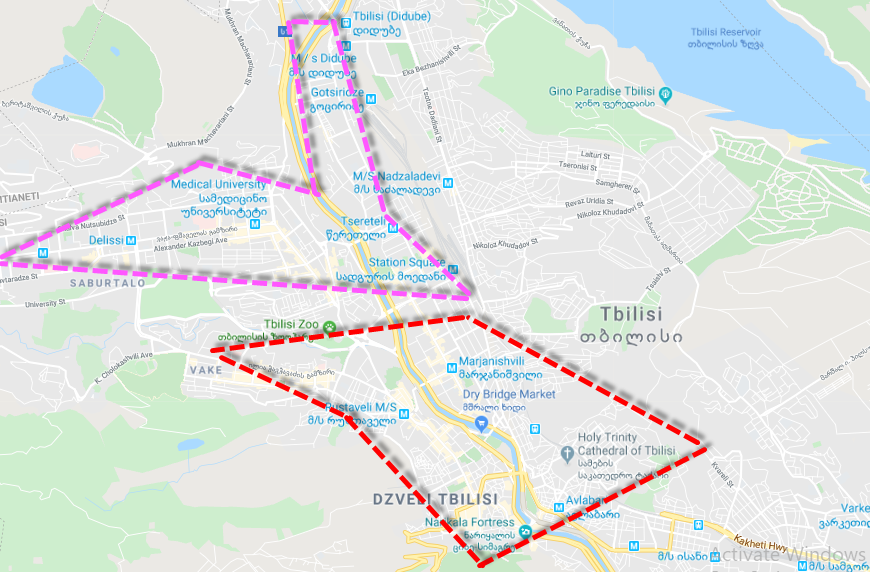 Cheap houses for sale in Tbilisi
        All the districts which fell out of my list we will  call calm area.  Benefit of investing in Calm area, so any area  other than outlined area on the map is that these are cheap investment property. So, if you are limited for budget and If you are mostly looking for
places where you want to live yourself this might not be a bad idea at
all.  Most real estate development projects take place in didi digomi and Isani area. Didi digomi is not accessible by metro and public transport, I would say, is limited. Versus
Isani, where there is a metro line public transportation more  organized.*
   We do analyze over 200 properties for each of our clients to draft best investment deals on the market.  If you require agent for your Georgian Real Estate Investment here we are to assist you. Contact us simply  by feeling this form and our real estate agent will follow up as soon as possible: