Table of Contents of this Post
If you know me and our company, you might know that we have been selling luxurious seaside-properties for years now. We manage those and create decent returns for our clients. However, corona shifted our perspective and may I say, helped us to discover a new market niche, which I am about to share with you.  At last, I am here to share the newest insights on the real estate market in Georgia. Discover new trends with me.  This might even be your best chance to buy a luxurious house in Europe.
The real estate market has been exponentially increasing during past years in Batumi. Especially with the ongoing EU-integration process bets are high.
We have been helping people invest in fully managed properties and generate anywhere around12-25% during past years.
This year we have a new exciting offer for you.
We can help you find a reasonably luxurious own house (villa) or if we are not able to find some because of under-supply to build your dream house with a fraction of the price. You pay only with the progression of the project.
What type of property to invest in Batumi after pandemic?
Pandemic hit hard every sector, but especially tourism, I am sure you know that. People had time to think and reevaluate their life priorities. Most realized the importance of having your garden, the smallest one but at least the possibility to breathe. Being stuck in 30m2 for two years was not a very nice experience for many. I believe, this is the reevaluation that will stay with us throughout our whole lives. 
Batumi is a seas-side resort, everybody is looking for beachfront flats for understandable reasons – they rent well. But when it came to our own portfolio investment we had to rethink, do we want to have yet another condo? The answer was no! We wanted more space. This is how we end up with our Villa investment. 
Now, obviously, we had positive expectations while making this investment, but the result has definitely outweighed expectations. We suddenly discovered the hidden gem, by chance. 
Batumi – then and now
Sometimes pictures show more than words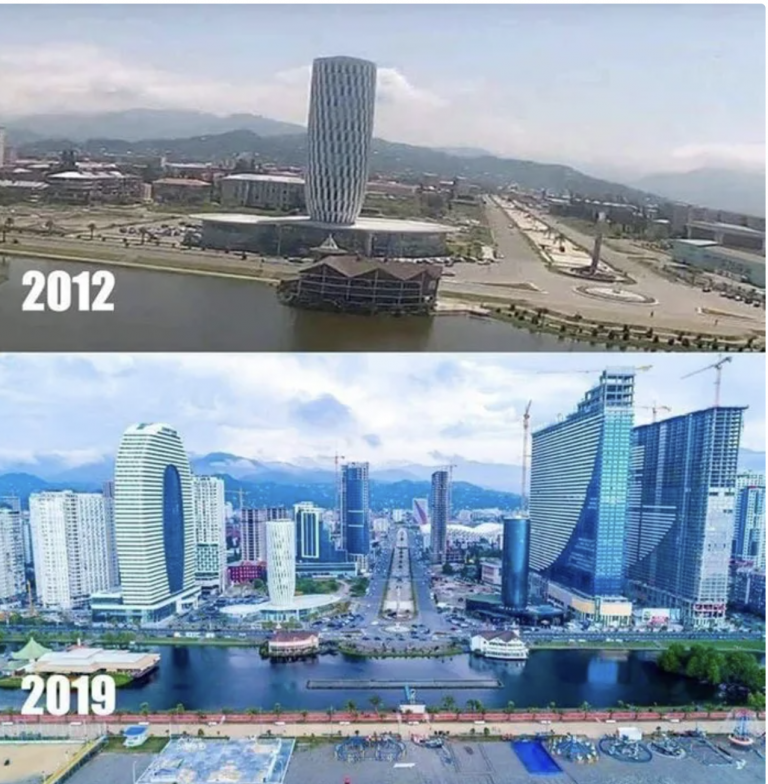 Insider Insights on  Batumi housing market 2022
When it came to renting the property we wanted to compare market prices. We knew very well what was the prices for sea-side condos in Batumi, but for this type of villas, we did not. We have never had such kind of investment property in our portfolio before. That's where the biggest realization moment came – there was no such property on the market to compare the prices. The second moment hit straight away when in the middle of winter we rented out the flat in the seaside town for a 15% annual yield.  Now, prices went even higher. 
So as we started searching for more flats like that.  Only to realize that there are only a few projects that build similar properties. All of them are not that well known, no wonder why, they did not even have a functioning website, not even a decent sales personnel. I don't think they spend much on marketing, yet – almost all of the villas were sold out.  Even if they were not, prices were very high. Double as much as we paid for this second-hand villa deal.
If you want to follow me along as I was hunting some similar villas for my clients, you can watch the below video or you can skip ahead it and continue reading. 
Best Deals on Villas in Batumi
Consider saving this blog, as I intend to update it with my new findings regarding the subject matters. Above is the video you see a brief overview of the market of Villas and you know some of the Villa construction projects and prices by now. If you have seen it, some of them are not finished, some do not have the perspective to be finished, some are expensive, some are more reasonable, and some are good and bad. Below, we just want to take this burden of evaluation for you and do this job for you. We hand-pick and shortlist the trustworthy deals. This is your chance to get reasonable luxurious property in Europe.
Secret Garden Vila Construction Project
Project Description
There are a few reasons we hand-picked this project. First is financial security and good records of the firm itself. The second – is the location. This is located inside the city. You won't find Villas inside the city, it is scarce. Lands are all taken. That is why the project has long-term potential. 
Date of Completion
This luxurious townhouse construction project is set to be finished at the end of 2021.
Number of Villas
26. 6 sold at the moment of writing this blog post.  
Prices
there are three and four floor Villas.
3 floor – 132 m2 – 1200 USD per m2 – 158 400 USD
4floor – 180 m2 – 1000 USD per m2 – 180 000 USD
 + 4 m2 parking and 16m2 garden included
Terms of payment
5% for Booking now only – after construction starts price increases monthly

When major concrete work is finished – the first payment

When the windows are doors are installed – a second payment

Third and last payment is made when the property is finished.
You can learn more about his project from the video below
Looking for rental investment in Georgia?
Our real estate estate agents can help you numerous ways. Liked the idea for investing in villas but it's a little out of your budget? We might have solution in that case too. We wanted to create a solution for every budget, so everyone could get proportionate to their income investment returns. Introducing co-ownership solutions
Buying a villa from as low as 50 000 USD for passive income remotely
You could consider co-ownership of Villas with us. You become the full owner of your own house this way to together with another person. With our property management service, you can benefit from the passive income source proportionate to your investment. Every advantage comes with some adversity. Now if we are being honest, in this scenario selling your portion is a little more complicated as another owner has to agree with it and you have to find someone willing to buy a co-owned villa. In this case, we will either offer you buy back or help with the sale. Consider this not as a quick buy-sell scenario but as an investment for passive income. If both owners agree you can easily resell too.
Other Deals - Luxurious own houses for sale in Batumi
Lately, I often say that buying a ready-made house in Batumi is a hidden gem. I believe the prices of houses with a yard are still ridiculously low and are subject of a drastic increase. The reason for this is that the main focus as an investment property goes to condo flats. In fact, the absolute majority of companies prefer to build multi-story, instead of houses which increases the number of houses and also the demand and supply curve reshaping. On the other hand, Villas are limited, and they will be always limited due to the kind of this type of property and the land surface the day it requires. That's why I think that while there might be a likelihood that flats are oversupplied. There is little chance for own houses to be oversupplied. Often times before just consider rental yield when they are thinking of purchasing a flat. But in fact, much more income can be proud by property appraisal. That's appealing exactly. Property appraisal, in the long run, will be higher for own houses rather than a link on the flowers that are most popular at the moment.
I went out and saw lots of townhouse construction projects in Batumi. In this video, you will see some of the top, handpicked-by-me deals for houses that are on the market for sale at the moment in Batumi.