If you are an auto-parts producing company looking to expand your business and are looking to incorporate your Business in the best possible jurisdiction, this blog may help you to make strategic expansion decisions. Follow this blog to find out some of the Benefits of doing manufacturing business in General and the specifics of the automotive business in Georgia. 
Summary of Manufacturing Sector of Georgia
Not only  Automotive production, in general production in Georgia provides numerous benefits. The production sector is highly supported by the government. There are numerous manufacturing sectors and opportunities to start a business at the moment. There is a separate blog  written by us,  overviewing the manufacturing business sector in Georgia, you can refer to that for a more comprehensive understanding of the market, here is only the shortcut:
Easy startup procedure
Law Tax Regime
Easy to import and export 
Law labor and utility costs
Strategic location
Free trade agreements with numerous countries which open global export potential.
Overview of Auto-Parts Production Market of Georgia
History of Georgian Automotive Market
In General Georgian manufacturing sector struggled a lot after the collapse of the Soviet Union. As we all know, in the Soviet Union there were only the government-owner production units. In 1991, the collapse of the Soviet Union caused Georgia to prompt a market economy. Which you might have guessed was not an easy transition. Though Georgia was reached with production units, including automotive and auto-parts production, we could not manage to maintain all these production factories. The country went into big chaos, people were confused, there was no system at a place, people did not know their function, hence there was nobody to take care of those production units.
Though Georgi has a rich history of auto manufacturing, we had to start everything from scratch. This means the Georgian automotive production sector takes its baby steps. What does this mean? This means demand in the local market. However, we are not only talking about satisfying local demand here. The most important factor here is the possibility to export products with the least headache. Easiness of doing business, easiness of importing and exporting.
Current Auto Production Market
Just like I have mentioned, the market is still in its beginning stage. Not saturated. Not huge competition. Well, even if there is competition, we are striving here for the global market, global export, which invalidated our thoughts on the competition. Still, let's take a look at current manufacturers. 
List of Automotive Producers in Georgia:
DELTA international is producing civilian hardware.  It is a government-owned company.
Kutaisi Mechanical Plant Manufacturers produce spare parts for the main railway.
Then we have TAM – Tbilisi Aircraft Manufacturing which is also busy with military aircraft, producing military products.
"Elvamavmshenebeli" is another company producing locomotive parts. Georgian Locomotives Manufacturing. 
Major benefits of Starting Auto-parts Manufacturing in Georgia
Benefit 1 – Strategic Potential
Kutaisi which historically has been centre of Automotive production and industrial development aims to regain the status? Well, check this breaking euronews story.
It is believe that georgia is an emerging industrial, cultural and education centre.  Kutaisi, located in Georgia, is the first country in the South Caucasus region to launch a factory plant for electric vehicles. Chinese investors are interested in the project execution. Project is highly supported by the government, the latter is big supported of manufacturing companies, that is the complete, separate advantage of incorporating auto-parts production unit in Georgia.
Benefit 2- Exporting Potential
Georgia does not produce cars at the moment. Yet, somehow it Managed to be the exported without even producing its own cars. you may wonder how.  Georgia imports card from various different countries and re-exports them in neighbouring markets. It is possible due to simplicity of doing business, importing and exporting and favourable taxation system.
Benefit 3 – Local Demand
This is continuation of the previous point, which was about how Georgia became automotive exporter without producing their own cars. Due to the fact that Georgia somehow became local hub for importing, repairing and re-exporting card, also due to local demand on the cars there is increasing potential demand for auto-parts. Re-exporters have to import auto-parts from various countries too. Local production unit could easily and quickly satisfy this demand.
Benefit 4 – Cost Reduction – Utility and Labour Cost
Another benefit of incorporating a business in Georgia is cost reduction possibility for manufacturing units.  Up to 80% of power is generated via hydro and wind power plants, leading to greener and cheaper energy. 1 kWh of high voltage electricity costs about 6.6 USD cents, which is one of the lowest among the competitor countries.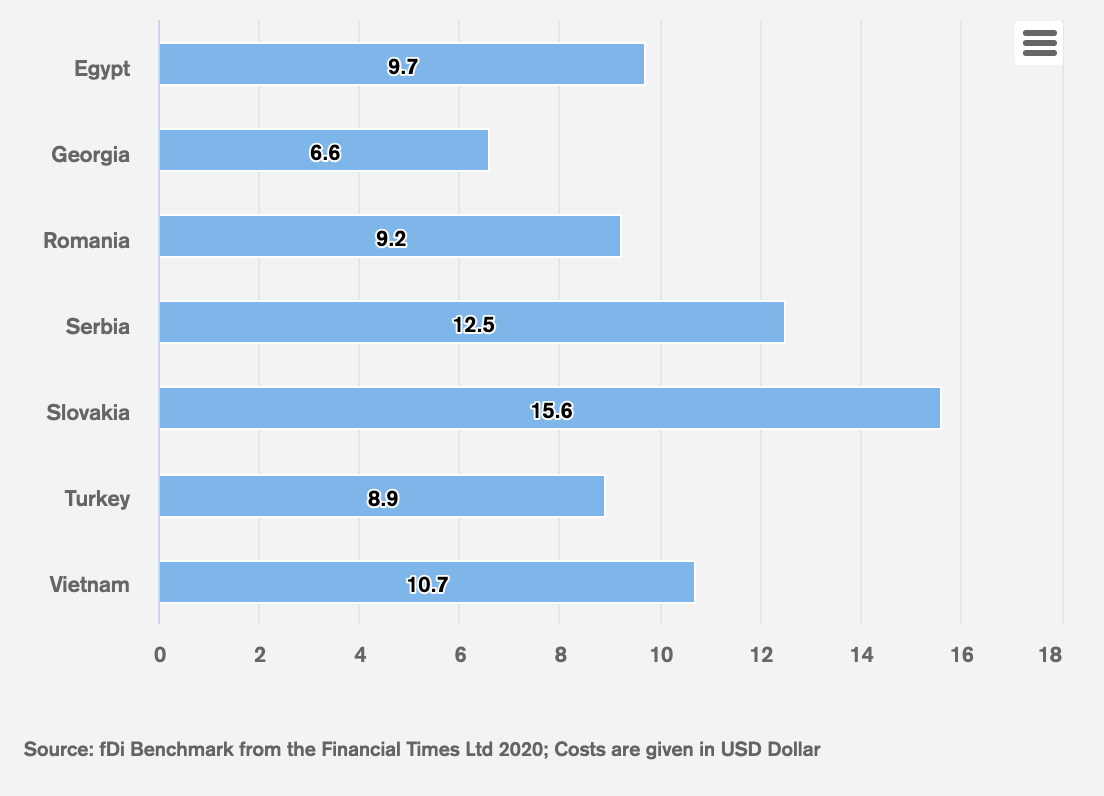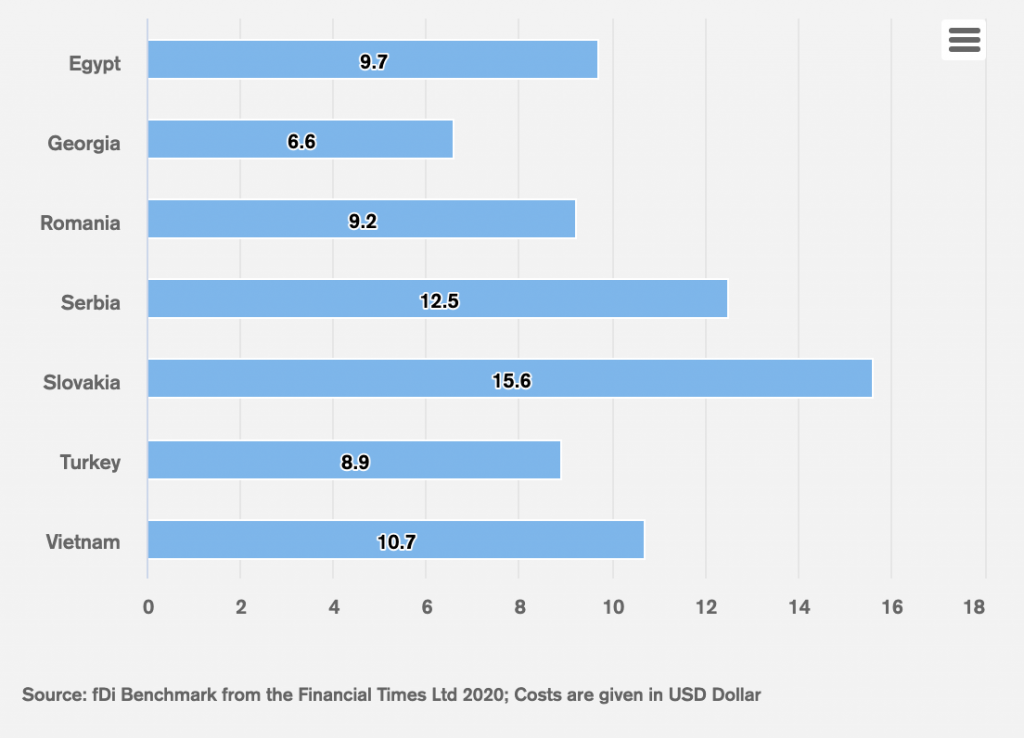 Benefit 5 – Government Supports Manufacturing Industry
 Georgia offers a number of incentives and co-investment opportunities to companies interested in developing manufacturing facilities in Georgia.
In terms of government support, you can consider two major projects going on: FDI grand program and the Produce in Georgia project. 
FDI Grant Program
FDI Grant program offers cashback for costs incurred for staff training and infrastructure upgrade. "Produce in Georgia" program is devised to support Industrial manufacturing through a variety of financial and technical support mechanisms, including co-financing of the interest rates on the commercial loans, Collateral Guarantee co-financing, and transfer of state property (both land and building) into the private ownership for a symbolic price of GEL 1. 
Eligibility Criteria for the FDI grant program
•            Invest at least 10 million GEL (~3 mln USD) and create minimum of 150 jobs.
•             For companies operating in the field of business process outsourcing (BPO), the minimum amount of investment equals 5 million GEL (~1.5 mln USD), with the creation of at least 200 new jobs.
what are the benefits of the FDI grant program?
 Companies will get cashback of up to 1 million GEL (~300 thsd. USD). The maximum term of which is 39 months.
Produce in Georgia Project
There are different ways to access finances within this program:
• Interest Rate Co-financing on the loan.
• Co-financing of bank loan interest rate for the first 36 months: Refinancing rate + 3% (Currently 11%)
ELIGIBILITY:
• Loan amount should be in the range of GEL 50,000 – 10,000,000
• Leasing project value should be in the range of GEL 50,000 – 10,000,000
Benefit 6 – Numerous Tax Benefits for Georgian LLC
Automotive and Aerospace companies can benefit from Georgia's growth-friendly Tax Environment.  Did you know that Georgia is the 3rd least tax-burden country in the world according to the World Bank? Some of the major benefits are as follows:
Reinvested and retained profit is free from profit tax – companies pay Profit Tax only on distributed earnings.
Personal Income Tax is one of the lowest in the world, at 20% and the pension contribution is just 2% for the Employer (2% paid by Employee, 2% paid by Government).  8
0% of goods are free from import tariffs in Georgia.
Georgia has 4 Free Industrial Zones (FIZ). Businesses registered in Free Industrial Zones benefit from additional tax exemptions: Companies producing goods for export in FIZ, are exempt from all taxes except Personal Income Tax (20%), which is paid from employees' salaries.
No export tax at all. 
For a brief guide to the taxation system in Georgia, check this out.
Electric Cars Production in Georgia, Kutaisi
It has been announced that Chinese investors plan to start electric cars production units in Georgia, more precisely Kutaisi. It has been already agreed with the Ministry of Economy of Georgia. These cars are targeting Local and the EU Market. Georgian government gave in possession the land, worth  of 68 million Georgian Lari to the Investors for free.
Looking for incorporating a business in Georgia?
Make sure you contact us for the comprehensive, most convenient, faster, and most importantly reasonable services. Make your best choice when it comes to incorporating a business in Georgia. We offer you the simple company registration procedure in Georgia. Our incorporation or company formation agents will not only help you to incorporate your Georgian LLC, also will advise and guide you through the whole business operation journey.  Doing business is easier with us, local professionals.
Video Summary of this blog