Table of Contents of this Post
Today I'm gonna tell you about the Country which you should consider if you are looking for incorporating the manufacturing company or starting a production business. If you ask yourself where to start my next production unit – this blog is for you.  We tried to gather useful information, just take a look at it and share your thoughts with us.
Benefits of Starting a Manufacturing Business in Georgia
  Strategic Location 
     We are talking about Georgia today. The country is strategically located at the intersection of Europe and Asia. For many years up until now, it has had a function to contribute transportation of some important export goods.
     Development Potential
One more benefit is the increasing rate of GDP. The country shows promising macroeconomic performance. Gross Domestic Product Per Capita consists of 4 696.2 US Dollars and the Real Growth Rate is 5.0 %. for further you can find the chart below:
     Easiness of Doing Business
  Additionally, Company formation Procedure in Georgia is quite simplified and you can also register a company online with the POA. Our team is ready to assist you no matter what kind of difficult requirement is. We are also able to help open your business bank account, Obtain your residence permit, suggest some additional services such as Tax Consultancy and bookkeeping Services according to the EU standard. 
Access Global Market
Though Georgia is not the biggest market ever, you can benefit from access to the global market. With a production unit in Georgia, you cut export costs as well as benefit from accessing various countries. Georgia signed a free trade agreement with the EU, access easily European countries. Apart from that, the Georgian Manufacturing business opens doors to other continents too.  Free Trade Agreements with Turkey, EFTA, China (including Hong-Kong), CIS countries, and Ukraine as well as Generalized System of Preferences (GSP) with the USA, Canada, and Japan.
                               Tax Benefits
 When you start a production Business in Georgia do not export products you do not pay tax, because Georgia allows you to operate export tax-free. There is no export tax in Georgia. To further incentivize production Business, a few years ago free trade zones were interpreted. Though these zones have slightly higher rent rates and make you pay a fixed amount yearly, medium and larger-scale businesses can benefit also from corporate profit tax exemption. More on the Georgian taxation system can be found in this simplified taxation guide. 
  Cost Reduction
Utilities, in particular, electricity and labor cost allows you the cost reduction. Competitive pricing on both markets can result in high-cost cut and increased profitability


Government Supports Manufacturing Business
Georgia offers a number of incentives and co-investment opportunities to companies interested in developing manufacturing facilities in Georgia.
When it comes to state support, you should consider two major projects that are ongoing. One of them is directly related to Foreign Direct Investment and is also was larger scale investors, another one is relatively smaller. These two are called – FDI grant program and Produce in Georgia.
State Support for Foreign Direct Investments – FDI grant program, what is it?
Approved in 2020, the program aims to support FDI inflow. FDI Grant program offers cashback for costs incurred for staff training and infrastructure upgrade. "Produce in Georgia" program is devised to support Industrial manufacturing through a variety of financial and technical support mechanisms, including co-financing of the interest rates on the commercial loans, Collateral Guarantee co-financing, and transfer of state property (both land and building) into the private ownership for a symbolic price of GEL
 You might ask yourself, what are the priority sectors? What are FDI sectors that government favors the most? 
•             Production of electrical and electronic engineering products;
•             Manufacturing of aircraft parts and components
•             Manufacture of vehicles and equipment, as well as their parts;
•             Export of business services/ business process outsourcing (BPO);
•             Developing Warehouses and logistic centers;
•             Aircraft repair and maintenance (MRO);
Eligibility Criteria for the FDI grant program
•            Invest at least 10 million GEL (~3 mln USD) and create minimum of 150 jobs.
•             For companies operating in the field of business process outsourcing (BPO), the minimum amount of investment equals 5 million GEL (~1.5 mln USD), with the creation of at least 200 new jobs.
what are the benefits of the FDI grant program?
 Companies will get cashback of up to 1 million GEL (~300 thsd. USD). The maximum term of which is 39 months.
Government support for production business vol 2 – Produce in Georgia Project
There are different ways to access finances within this program:
• Interest Rate Co-financing on the loan.
• Co-financing of bank loan interest rate for the first 36 months: Refinancing rate + 3% (Currently 11%)
ELIGIBILITY:
• Loan amount should be in the range of GEL 50,000 – 10,000,000
• Leasing project value should be in the range of GEL 50,000 – 10,000,000 2
Top ideas for Manufaturing Business
   You could consider starting any manufacturing business in Georgia, though in this sector, based on our market knowledge, we share with you our opinion. These are markets, that we think to have a marketplace locally as well. as globally. These are some ideas of production units that can work well inside of Georgia or as export potential.
         Idea 1: Biopharma Sector-  Pharmaceutical Production
       What are the main advantages of starting a medicine production unit in Georgia? Here are some of the top reasons for incorporating pharmaceutical production unit:
Again, the easiness of starting procedure. The startup procedure takes less than three months. This includes incorporating and acquiring a relevant license. All depending on the procedure it may take less time frame too. Three months is absolutely the maximum time that you will need to start producing Pharmaceuticals.
Easiness of Doing Business, in particular, simple import and export procedures, lack of bureaucracy is another benefit for Biopharma production. If you think about where to incorporate the Biopharma production unit, this is probably one of the most important factors to take into account. How easily you can import raw materials and how easily you can export. remember, all the above-described benefits of starting a manufacturing business in Georgia applies to medical production too.
High quality of data accepted and validated by FDA inspection. Apart from that, Georgian Products approved by EMA, CIS, and MENA regulatory bodies
Idea 2: Automotive or Auto Parts production Business
Strategic Potential
Kutaisi which historically has been the center of Automotive production and industrial development aims to regain the status? Well, check this breaking euronews story.
It is believed that Georgia is an emerging industrial, cultural, and education center.  Kutaisi, located in Georgia, is the first country in the South Caucasus region to launch a factory plant for electric vehicles. Chinese investors are interested in the project execution. The project is highly supported by the government, the latter is big supported by manufacturing companies, that is the complete, separate advantage of incorporating auto-parts production unit in Georgia.
Exporting Potential
Georgia does not produce cars at the moment. Yet, somehow it Managed to be exported without even producing its own cars. you may wonder how.  Georgia imports cards from various different countries and re-exports them in neighboring markets. It is possible due to the simplicity of doing business, importing and exporting, and favorable taxation system.
Local Demand
This is a continuation of the previous point, which was about how Georgia became an automotive exporter without producing its own cars. Due to the fact that Georgia somehow became a local hub for importing, repairing, and re-exporting cards, also due to local demand on the cars, there is increasing potential demand for auto parts. Re-exporters have to import auto-parts from various countries too. Local production units could easily and quickly satisfy this demand.
Idea 3: Garments Production – Apparel Fabric
Market Overview
There are few factories in Georgia right now producing apparel for international brands, such as   M&S, Moncler, Nike, Adidas, Zara, Puma, HM, etc. Footwear and bag production is an emerging sector, as more and more local producers are entering the market. Most of them
benefiting from the state incentives for manufacturing support.
Georgian leather products are also a newborn sector, yet exporting to Italy and Turkey.
Taxation Benefits
Georgia Free Trade Agreements with strategic markets, such as EU, Turkey, China (including Hong Kong), CIS, and EFTA countries. These preferential trade agreements offer a possibility to save up to 17-30% of customs duty on footwear & bags originated in Georgia (otherwise amounts up to 17% for EU and Turkey, and up to 30% for CIS countries).
Labour Availability
 The average monthly salary in apparel and footwear manufacturing is USD 267 in 2020. 12 State-owned Vocational Educational Institutions operate around Georgia providing professional courses in cutting, sewing, shoemaking, and other practical subjects used in the industry. Most of the fees for courses are financed by the Government of Georgia, and in case of investor's request, customized training is available for new companies/factories.
Steps to Start Manufacturing Business in Georgia, Caucasus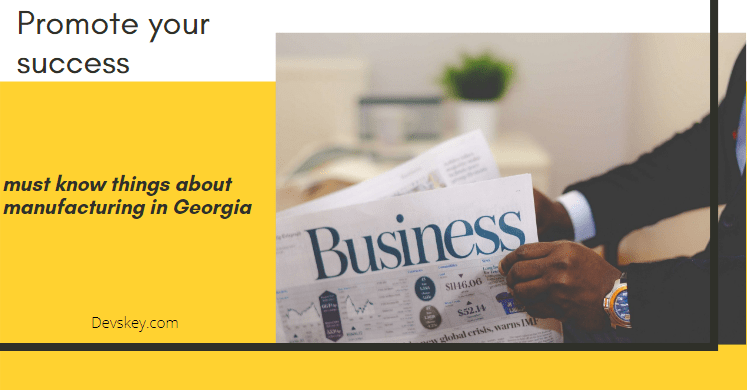 Below I will list the main factors, facilitating investors to make decisions to start their manufacturing businesses in Georgia. These are the main advantages of starting a production company in this tiny little but promising country.
Firstly, Research a niche market for to sell your  differentiated product
Secondly, Learn the insights of the manufacturing business (Ins and Outs)
Once you have an understanding of the manufacturing business environment in Georgia, make sure you incorporate your business.
This is an optional step. If you think your Idea can be approved by the government, pitch your business plan to the funding organization Such as Enterprise Georgia.  Of funding requires extra commitment, which some people do not want. They have accumulated necessary funding on their own and it is absolutely fine to skip this step and start your manufacturing business on your own.
Choose the best location where you are going to implement your manufacturing operations. Perhaps, surrounding of main cities such as Tbilisi or Batumi suits your goal the most.
register your company in Free Industrial Zones in Georgia
   Registering your company in free industrial zones in Georgia will bring you several benefits such as tax incentives, incentives of importing and exporting goods and so on. In other words, you are completely tax-free if we do not count some obligatory little taxes in. We also do provide company registration offer in free industrial zones in Georgia as we have partnerships with them…
Major Takeaways
Georgia is strategically located, between Europe and Asia
It is easy to do business in Georgia. It is amongst the top countries in terms of easiness of doing business.
Government supports and incentivizes manufacturing units. 
No export tax.
No income tax for manufacturing companies incorporated in free industrial zones.
Some more Ideas for Manufacturing Business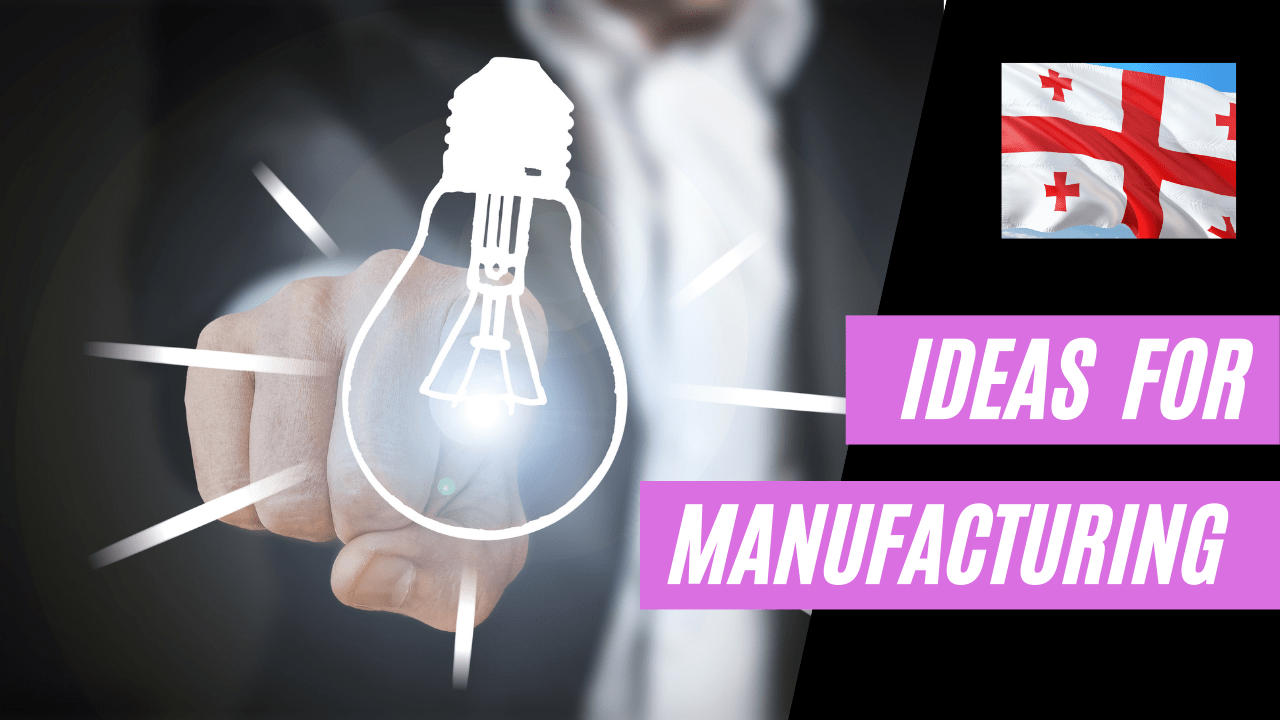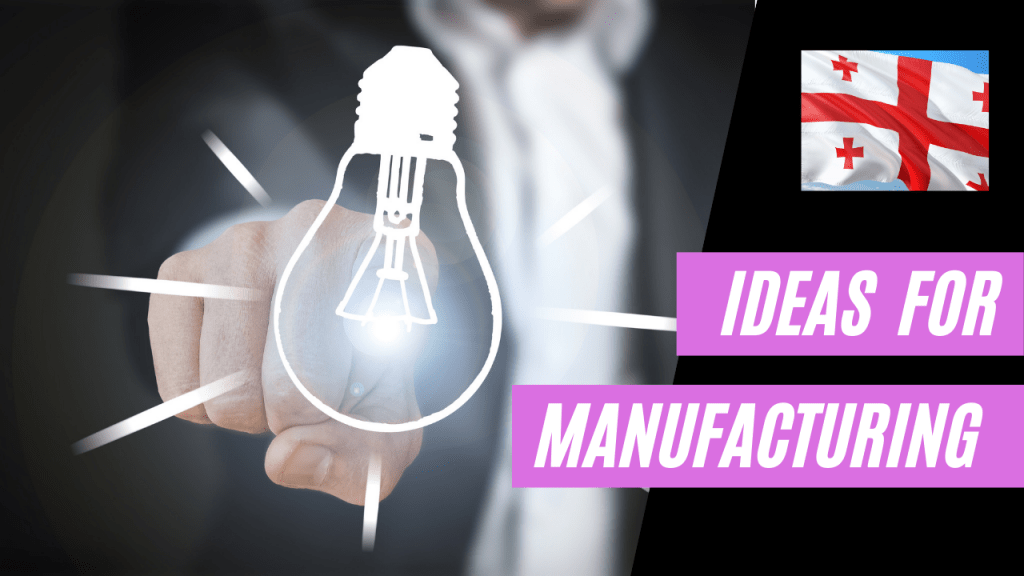 These additional Ideas that may help you to decide in which field to start your manufacturing business in Georgia:
   This kind of sphere is highly on demand in Georgia, because Everyone needs to sew and  purchase. Here are some enterprises in Georgia which are well known enough and most of them are foreign companies. E.g. Adjara Textile and so on. In Rustavi, one of the cities in Georgia is planned to operate another huge clothing company, still owned by foreigners. 
   Besides, the government will help you in this case great deal as it promotes manufacturing development and exporting goods (also creating working places).
Gradually, the number of buildings are increasing in Georgia, so the demand on the facilitating materials are quit a big. Lot's of ceramic tiles are imported from foreign countries such as Turkey, for example.
   As the statistics has shown there is a high demand on furniture in Georgia. More and more buildings are being constructed nowadays In Tbilisi and Batumi. As a result, you will be able to make your production on demand and get immense profit. 
  Despite prices on the materials are growing there is still noticeable high prices on furniture. 
 Georgia is famous for its varied  assort of cheese but few big institutions operates in this field. The postures and the mountains contribute the cattle breeding field development. It is a good opportunity to manufacture and then export abroad, because Georgian Cheese and other productions of milk is famous in EU.
  It is highly valued to operate metallurgy factory. Unfortunately there doesn't exist any despite there are loads of materials that can be recycled. 
   During the soviet union there existed so many tea factories and has been exported in Russian cities. After soviet union went down all the factories stopped working, people abandoned their main income source work and country started to export mainly from Turkey. The west part of Georgia is very rich with tea.
      Also within soviet union period entrepreneurs were actively taking to producing natural drinks. Because of the existence of diverse fruit and other materials. Now it's good idea to release some drinks as because there isn't very competitors on the market
      Honey is on demand on Georgian market as well as on foreign, international market. Foreign visitors are usually admired tasting Georgian honey 🙂
      due to the suitable climate Georgia is able to produce many species of flowers. especially roses, which are  quite expensive on the market. 
      Georgia is famous with it's vine internationally, so this is one of the most potential-increasing industry in Georgia to create your own factory and then export glamorous vine over the world. 
   Above all, we can say that diversity of business opportunities in Georgia  creates a good business climates. Your business will be live instead of imposed so many taxes and duties. In a nutshell, contact us, we are ready to make your way paved in Georgia… 🙂 
Get Help to start Manufacturing Business in Georgia
Once you decided that you want to benefit either from government incentives and support of manufacturing or from the local tax benefits, such as tax free zones for production companies and you are ready to move forward we can assist you with:
Helping to establish your company
Helping to register with Tax-free trade zones
Helping to maintain your company – accounting and legal support
We are ready for a long-term partnership with you. Contact us. 
A video summary of this blog